Multi-Channel Wide Band Amplifier (MCA)
Multi-Channel Wide Band Amplifier (MCA)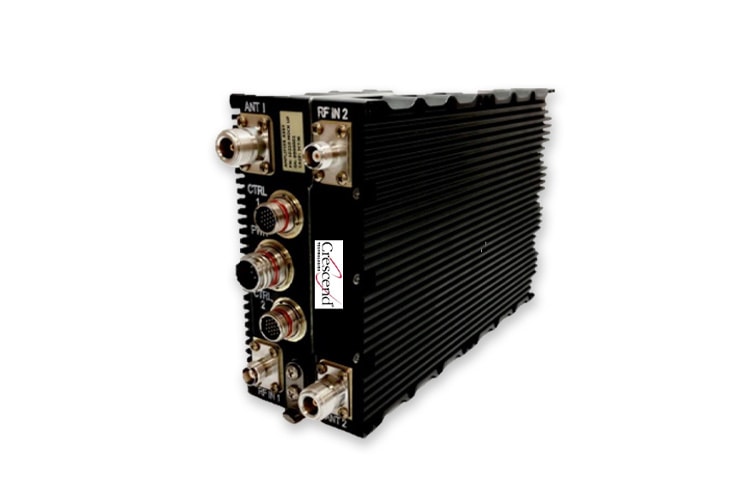 The Dual Channel High Power Amplifier is a small, lightweight amplifier fully capable of extending the communication range for legacy and next generation waveforms.  The combination of two internal frequency channels (UHF, VHF/L-Band) provide for User Definable simultaneous 2 channel operation. The compact design is an ideal choice for airborne applications and compliant to MIL STD 704E.
Configurable waveforms/frequency band for TSM-X, VHF/UHF, AM/FM LOS, SRW, SINCGARS, ANW2, ATC, HAVEQUICK I/II, P25, DAMA, SATCOM
Compact Size, Weight, and Power
Addresses Airborne Rotary/Fixed Wing (manned/unmanned) platforms
Capable of simultaneous Dual Channel operation
DC (aircraft bus power) input from 18-36V, nominal power consumption
RF Input frequency sensing
Configurable to any airborne radio interface
Cosite mitigation for adjacent channels
10% offset TX & RX filters (-30dBc)
Form factor: 10.0"L x 3.0"W x 6.0"H w/o connectors
Weight: 8.5lbs
Automatic Leveling Control (ALC)
VSWR sensing
Selectable RX one or two LNA gain stages
Environmentally sealed design meeting all MIL STD 810 requirements
Flight Safety qualified
Failsafe by-pass path
File could not be opened. Check the file's permissions to make sure it's readable by your server.
*Will support battery operation as required.
Finish can be specified, otherwise chemical conversion coating clear as standard.
Manufacturing Practice Leader
Crescend Technologies, LLC
100 High Grove Boulevard
Glendale Heights, IL 60139
USA