VHF/UHF Compact Power Amplifier (CPA)
VHF/UHF Compact Power Amplifier (CPA)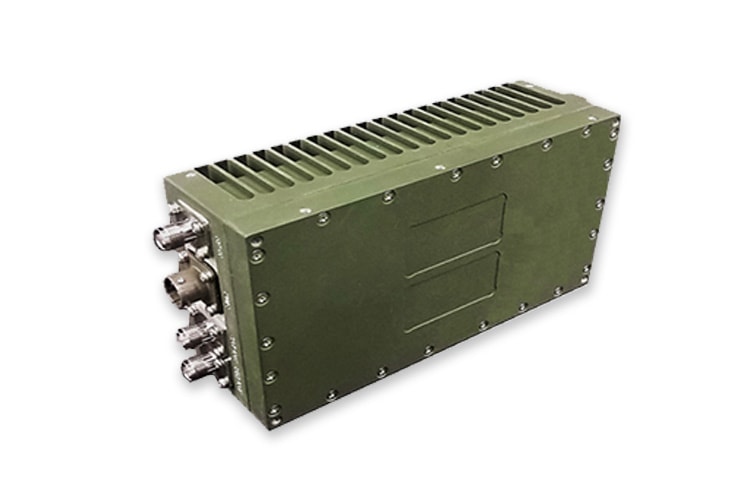 Small, lightweight, and rugged power amplifiers are the benchmark and platform for Crescend's VHF/UHF High Power Amplifiers (HPA).  The CPA supports tactical radio communication and datalink applications for clear, error free voice and data both on the ground and in the air to the warfighter.
The CPA is a small, lightweight (3lbs.) single channel amplifier that extends the communication range for legacy and next generation waveforms. The combination of VHF and UHF frequency channels provides capability to amplify Single Channel Ground and Airborne Radio Systems (SINCGARS), TSM, Havequick, Soldier Radio Waveform (SRW), IW SATCOM, AM, FM, FSK and PSK and P25. The small, lightweight design is an ideal choice for airborne, soldier carry, and ground vehicle applications.
Small size, weight and power
Addresses airborne and ground platforms

Rotary/fixed wing
Man pack—pull and jerk radios

Designed to support TSM, SRW, WNW, SINCGARS, ANW2, HAVEQUICK I/II, P25
30-512 MHz (25W), Failsafe Bypass
DC input from 10-36V, 85W nominal power consumption
No Interface required, Input frequency sensing
Cosite mitigation for adjacent channels
Small form factor: 8.3"L x 2.4"W x 4.2"H w/connectors
Weight 3lbs
Automatic Leveling Control
VSWR sensing
Environmentally sealed design
Tested to MIL-STD-810, 461, and 1275 requirements
File could not be opened. Check the file's permissions to make sure it's readable by your server.
Manufacturing Practice Leader
Crescend Technologies, LLC
100 High Grove Boulevard
Glendale Heights, IL 60139
USA