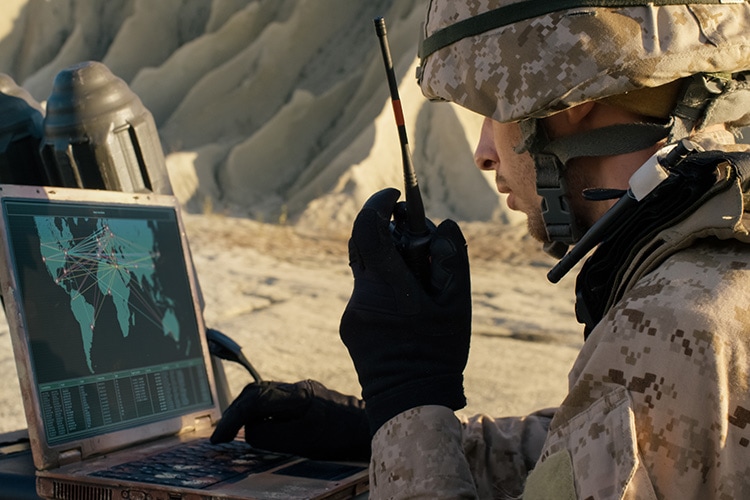 Crescend's technological expertise is customized products meeting SWaP-C specs. Our amplifier products are expertly engineered and battle tested to enhance a safe and effective warfighter experience.
Provided more than 50,000 RF power amplifiers for defense/military use since 2006​
First broadband military RF amplifier designer/supplier to ship Silicon-Carbide, and then Gallium-Nitride based RF power amplifiers in production quantities to the military​
Supplier of choice of broadband, high-power RF amplifiers for all Joint Tactical Radio System (JTRS) Clusters (GMR/FCS, HMS and AMF) and Rifleman Radios, mounted
Strategic supplier of broadband, high-power RF amplifiers for large IED EW Jamming contracts​​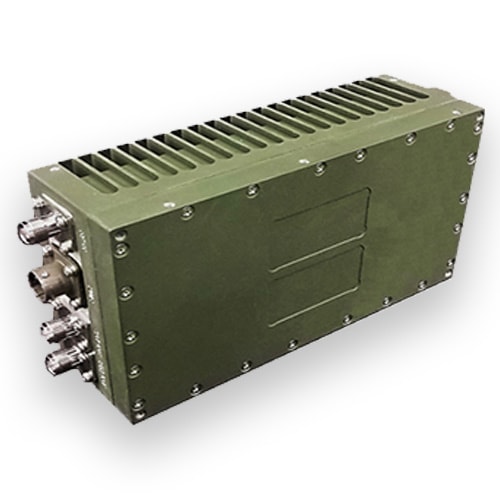 Reliable, rugged, custom and entirely confidential. Our Specialized RF Power Amplifier division delivers highly robust amplifier systems, sub-systems and modules to the tactical communication, pulse and jamming markets, covering DC-6 GHz. Our systems let our clients lead from a position of strength, and communicate from a position of safety on the battlefield and homeland.
It takes the best to design the best. From design through production, we have the finest minds in the industry working for us, using their talents to deliver RF amplifier products that excel in the world's harshest environments.
We are experienced with most legacy and advanced generation tactical and network waveform applications and continue to work on the TSM-X, Soldier Radio Waveform (SRW), Harris' Adaptive Network Wideband Waveform (ANW2), Wideband Networking Waveform (WNW) and Mobile User Objective System (MUOS) waveform and associated power amplifier solutions.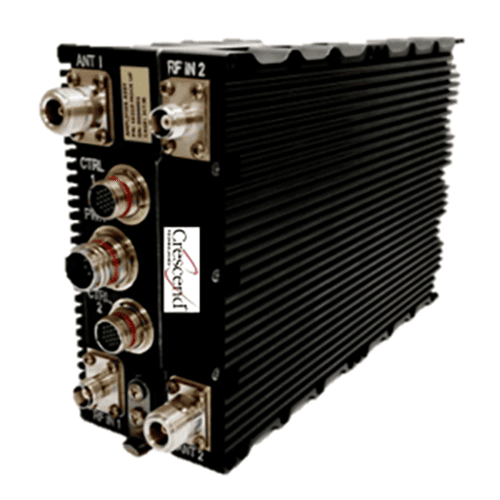 We are a leader in providing rugged and reliable custom RF solutions to the warfighter. Our highly experienced design engineers can—and have—fielded tactical radio and electronic warfare amplifiers in frequency ranges from 2 MHz to 10 GHz, at power levels from 1 to 300 watts. With expertise in Gallium Nitride (GaN), Gallium Arsenide (GaAs), Laterally Diffused Metal Oxide Semiconductor (LDMOS) and bipolar designs, Crescend has successfully developed customer programs which include:
Demanding Size, Weight and Power (SWaP) requirements and limitations
Man-portable, ground vehicular, airborne and maritime environmental requirements
Excessive ballistic shock and G-force requirements
Electromagnetic Pulse (EMP), Electrostatic Discharge (ESD), and Near Strike Lightning (NSL) requirements
Power conditioning and filtering
Hermetic sealing requirements
Radio-agnostic (RF input sensing) providing amplifier band-switching and operation requirements
Highly Accelerated Life Testing (HALT)
Requirements verification and qualification to MIL-STD-810 and numerous other MIL standards
If your opportunity demands a unique and challenging design approach, you can count on Crescend to provide a solution that will be compliant, and customized to you.
Manufacturing Practice Leader
Crescend Technologies, LLC
100 High Grove Boulevard
Glendale Heights, IL 60139
USA