Unlocking the Potential of Microwave Heating
Revolutionize your heating process with the unparalleled capabilities of microwave technology. Unlike traditional heating methods, microwave heating utilizes high-frequency radio waves to energize and vibrate molecules, resulting in uniform and efficient volumetric heating. Explore the advantages of solid state microwave heating: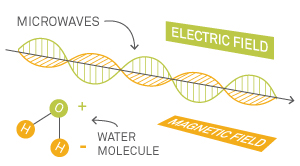 Unmatched Speed: Achieve higher throughput compared to any other heating method.
Superior Quality: Maintain lower temperatures for enhanced product quality and reduced waste.
Consistent Performance: Benefit from repeatable and reliable processing results.
Precise Control: Exercise precision control over power levels for greater process control.
Energy Efficiency: Minimize energy waste by eliminating heating of air and metal..
Eco-Friendly: Embrace electric-powered heating for decarbonization conversion.
Clean and Emission-Free: Enjoy combustion-free operations with zero emissions or permitting requirements.
Expandable and Modular: Easily add additional applicators and generators for scalability.
Safety Assured: Incorporate multiple-stage safety mechanisms for secure operations.
Space Optimization: Opt for compact equipment with high power density, ideal for limited floor space.
Versatile Applications and Scalability
Solid State Microwave heating systems cater to a diverse range of consumer, scientific, and industrial applications. Our systems are highly scalable, ranging from precision tabletop units to large-scale industrial systems. By utilizing electric power, microwave heating systems present a superior alternative to hydrocarbon-powered heating systems, addressing decarbonization requirements effectively. Our systems operate within the government allocated "Industrial, Scientific, and Medical" (ISM) radio frequency bands:
L-Band (902 to 928 MHz): Offers high power capability at a cost-effective rate, making it suitable for high-volume processes with deeper material penetration.  Our systems support practical power levels up to 500 kW for solid-state systems. 
S-Band (2400 to 2500 MHz): Frequently used in consumer microwave ovens and plasma applications.  The equipment is compact and efficient.  Our systems support practical power levels up to 30 kW for solid-state systems. 
Introducing Crescend Technologies: Pioneers in Microwave Innovation
At Crescend Technologies, we lead the way in microwave innovation, leveraging recent advancements in semiconductor technology to replace outdated magnetron-based generators with our cutting-edge solid-state microwave generators. In 2019, we introduced the world's first 50-kilowatt solid-state microwave generator, and since then, we have shipped over a million watts of microwave power worldwide. Our solid-state units offer a host of new capabilities, setting new standards for reliability, cost of ownership, and ease of maintenance. With power options ranging from 2.5 kilowatts to 50 kilowatts and beyond, our lineup of microwave generators caters to diverse industry needs.
Empowering Your Process with Advanced Applicators
In any microwave system, the applicator plays a pivotal role as it applies microwave power to the material being processed. At Crescend, we work closely with leading applicator manufacturers who provide a wide array of standard and customized solutions to handle solid, gas, and liquid products. Whether you require conveyor-belt ovens, high-pressure gas reactors, plasma chambers, mixers, or tank-type containers, our network of applicator manufacturers ensures seamless integration into your specific processes.
Comprehensive Microwave Engineering Services
Crescend Technologies goes beyond supplying cutting-edge microwave technology. We offer end-to-end microwave engineering services to support the rapid and effective deployment of microwave heating technology. Our team can assist with various aspects of your project design, including system sizing for target process rates, material analysis, pilot-scale testing, equipment layouts, utility planning, and more. Trust us to be your trusted partner in harnessing the power of microwave heating technology.
Unleash the true potential of your heating process with Crescend Technologies' microwave solutions. Contact us today to explore how our innovative systems can transform your operations.
Manufacturing Practice Leader
Crescend Technologies, LLC
100 High Grove Boulevard
Glendale Heights, IL 60139
USA